Dane Maxwell
southern.district [at] psc.ms.gov (subject: Southern%20District%20Question) (Email Me)
Welcome to the Southern District webpage. It is an honor to serve as your Public Service Commissioner for the Southern District. Please feel free to contact our office at any time with your questions or concerns as we value your opinions, questions and feedback. We are committed to serving you and look forward to hearing from you.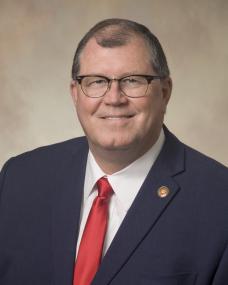 About Commissioner Maxwell
Chairman Dane Maxwell is a Marine Corps veteran, retired law enforcement officer, businessman, and former Mayor of Pascagoula, Mississippi.
As a successful entrepreneur of two national businesses, Maxwell has decades of experience in solving problems in the private sector and has brought this experience to the Mississippi Public Service Commission spearheading numerous economic development initiatives that have made a significant impact for the State of Mississippi.
Maxwell was elected Public Service Commissioner of the Southern District in 2019 and was selected by his fellow Commissioners to serve as Chairman at the first meeting he sat of the Commission in January of 2020. He has been appointed to numerous roles as part of the National Association of Regulatory Utility Commissioners (NARUC) including Vice Chair of the Washington Action Committee and member of the Clean Coal Subcommittee.
He and his wife, Donna, live in Pascagoula. Together they have 3 daughters, Lyndsey, Shannon, and Taryn, and two grandchildren.
Follow Commissioner Maxwell
Due to permanent changes at Twitter/X to see Commissioner Maxwell's Twitter/X Feed you must have a Twitter/X account: https://twitter.com/DaneMaxwellMS