Virden Jones was appointed Executive Director of the Public Utilities Staff on August 1, 2011, by Governor Haley Barbour and reappointed by Governor Phil Bryant on March 6, 2014, for a six year term beginning July 1, 2014.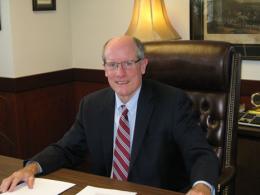 Jones is a certified public accountant and a member of the Mississippi Society of Certified Public Accountants. He received an undergraduate degree from Vanderbilt University in Nashville, Tennessee and a Master's degree in Business Administration from Emory University in Atlanta, Georgia. 

Jones joined the Staff as a Financial Modeling Manager in 1998 and has served in the capacity of Director of the Electric, Gas & Communications Division since 1999. Prior to joining the Staff, Jones worked in the private sector as an entrepreneur, investment advisor and professional accountant. He has a broad range of business experience in agriculture, computer technology, communications, real estate investment and financial services. 

Jones is a native of Greenville, Mississippi and has lived in the state most of his life. He is married to Dr. Libby Spence and currently resides in Madison.